Besides announcing the big deal death of al-Baghdadi, POTUS took the time to mention Russia about a dozen times and to promote his book as he would at a photo-op? However, his most serious decision was refusing to notify Congressional leaders but notifying Putin ahead pf time.
POTUS he withheld information about the raid that killed Abu Bakr al-Baghdadi from some members of Congress. Those left out of the loop include Adam Schiff and Nancy Pelosi adding that "Washington is a leaking machine." But this is not all, Trump has failed Americans is too many ways to help himself and his cronies, who he keeps on using and disposing of as used containers.
Make no mistake, Abu Bakr al-Baghdadi was a brutally effective jihadist leader and this is a death blow for the future of the Islamic State group he led.
"This is a hugely significant achievement in the fight against Islamist extremism, and the U.S. special operations forces, intelligence elements, and partners in the region responsible for it deserve considerable credit. Baghdadi was undoubtedly responsible for more deaths, barbaric executions, refugees, and destruction than any extremist leader in recent decades. His death is an enormous blow to the Islamic State movement that he founded and led to establishing the first-ever extremist caliphate, one of some 40,000 square miles. However, as we saw after the deaths of Al Qaeda founder Osama bin Laden and Al Qaeda-Iraq leader Abu Musab al-Zarqawi, other leaders do step up to lead such organizations. Therefore, it is important to sustain the commitment, together with our allies and partners, to achieve the enduring defeat of such organizations." General David Petraeus, U.S. Army (Ret.), former Commander of Coalition Forces in both Iraq and Afghanistan and U.S. Central Command, and former Director of the CIA
Trump told Russia of ISIS raid ⁠— but not Pelosi and Schiff because 'Washington is a leaking machine' https://www.alternet.org/2019/10/trump-told-russia-of-isis-raid-%E2%81%…
Trump cites 'Washington leaks' for keeping raid on ISIS leader from congressional leaders https://thehill.com/homenews/administration/467624-trump-says-congressi…
Donald Trump Kept Plans for Raid Against Abu Bakr al-Baghdadi From Democrats Involved in Impeachment Hearings https://www.thedailybeast.com/donald-trump-kept-plans-for-raid-against-…
Trump downplays Osama bin Laden killing: My Baghdadi kill 'was the biggest there is' - https://www.rawstory.com/2019/10/trump-downplays-osama-bin-laden-killin…
AP FACT CHECK: Trump spins tales on bin Laden, Iraq war https://news.yahoo.com/ap-fact-check-trumps-exaggerations-172214931.htm…
Trump says al-Baghdadi died 'screaming and crying.' U.S. officials aren't sure how he knows that. https://www.yahoo.com/news/trump-isis-leader-al-baghdadi-died-screaming…
Iran was informed of IS leader Baghdadi's death: Iranian officials tell Reuters https://reuters.com/article/us-mideast-crisis-baghdadi-iran-idUSKBN1X60…
Links
CNN - The 41 most shocking lines from Donald Trump's Baghdadi announcement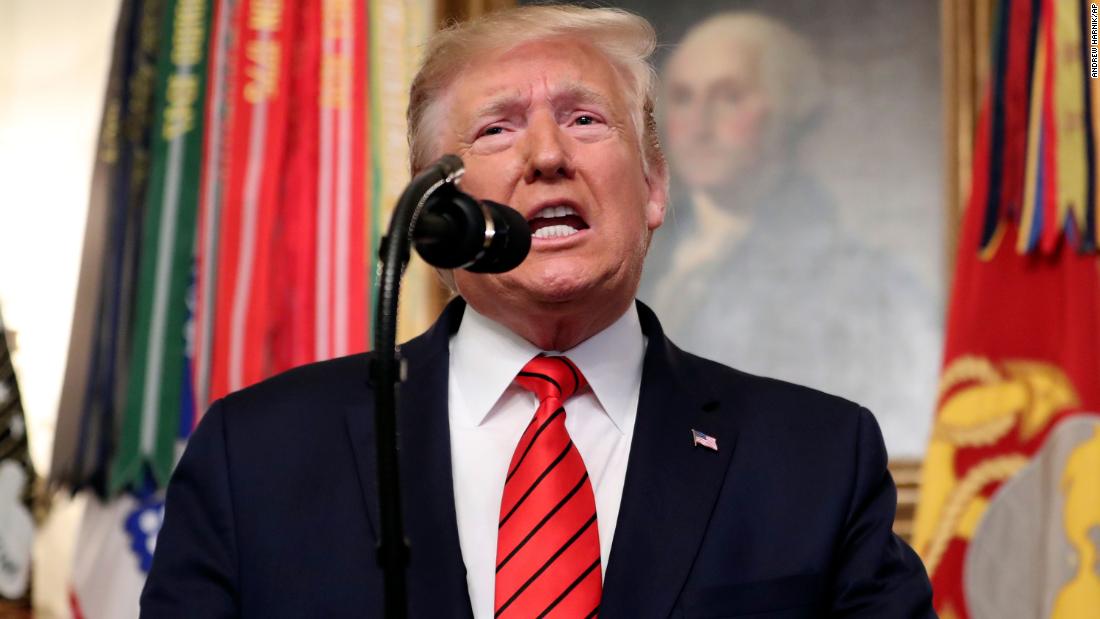 On Sunday morning, President Donald Trump announced that ISIS leader Abu Bakr al-Baghdadi had died as a result of a US raid in northern Syria. And then he kept talking. And taking questions. And more questions.