There's good news and bad. Mother nature is expected to play tricks on US but as resilient Americans we shall overcome.
Be safe and try to stay swarm and dry, but most of all please remember to be kind, even if you're frustrated and tired. There's so much to be thankful for all of US.
A Thanksgiving weak cold front may be arriving out west and moving East towards New York and all across New England. Showery and windy further south. The Tri-State area may get slammed on Wednesday as this weather pattern moves eastbound.
I recall celebrating my first Thanksgiving in the #USA with my parents and watching The Wizzard of OZ, but we're not in Kansas anymore, SOTO. https://youtu.be/PP5oQ0_xdow
This Thanksgiving, it's time to have a national conversation about American democracy. As Thanksgiving Day and Congress judgment-day come our way, some tips to do and say for keeping the peace over the holiday turkey, and pumpkin pie. First, listen, then ask questions and finally, try to find common ground. Remember that God welcomes even the biggest turkeys.
While you're celebrating Thanksgiving, it might occur to you that it is a little later than usual this year. As it turns out, there's a reason the holiday is arriving a little on the late side. The story dates back to 1939 when #FDR decided to shake things up.
Thanksgiving had been celebrated on the last Thursday of the month since the time of Abraham Lincoln. But, according to #TIME, during 1939, the calendar had been unusual, as the month started on a Wednesday, so there were five Thursdays as opposed to four. How's that for lore?
As you and yours prepare to celebrate Thanksgiving with friends and family, we want to say thank you for constantly visiting our platforms and using our resources. We appreciate for your feedback throughout the years. #CityImages #DONews #NewsHooks enjoys offering content that we hope supports your expectations. Please email us or write at any time if we can better serve your needs.
IMAGINUS PO Box 147 NYC, NY 10464
admin@cimages.me imaginus.media@gmail.com
Thanksgiving Proclamation, 3 October 1789 https://founders.archives.gov/documents/Washington/05-04-02-0091
Storms to impact travel through Thanksgiving holiday week in the #USA Storms to impact travel through Thanksgiving holiday week in U.S. https://upi.com/6961585t
FYI: Check your pantry and fridge for these recalled foods before Thanksgiving
Federal health officials are warning people to avoid some foods due to a series of issues from E. coli to lack of inspection https://apple.news/A5nnOURPlSSq13tDFSwMYmA
‪Thanksgiving weather: Snow, wind could snarl travel in central, eastern USA as 55M clog roads, airports https://www.usatoday.com/story/news/nation/2019/11/23/thanksgiving-weat… ‬
Links
HISTORY - Thanksgiving 2019
Thanksgiving Day is a national holiday in the United States, and Thanksgiving 2019 occurs on Thursday, November 28. In 1621, the Plymouth colonists and Wampanoag Indians shared an autumn harvest feast that is acknowledged today as one of the first Thanksgiving celebrations in the colonies.
Country Living - Everything You Need to Know About the 2019 Macy's Thanksgiving Day Parade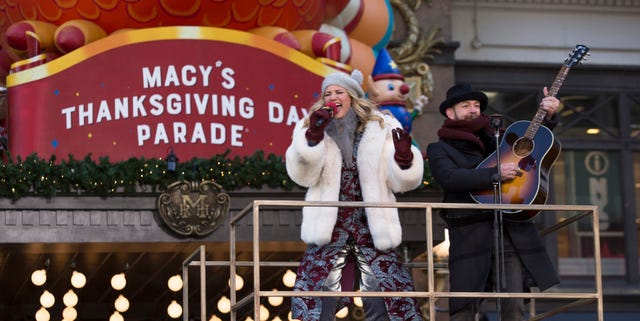 Wondering how to live stream the Macy`s Thanksgiving Day Parade 2019? Here, we`ve rounded up the answers, including how to watch, what time the Macy`s Thanksgiving Day Parade starts, and more.