Most of the folks on earth know The Bible is a collection of sacred texts or scriptures. Varying parts of the Bible are considered to be a product of divine inspiration and a record of the relationship between God and humans.
The real question is how many actually take the time to learn and apply the teachings from the holy scriptures?
These following Bible verses are for every really good businessman to not only read but review it, recall and always remember.
Psalm 5:3 (NIV) "In the morning, LORD, you hear my voice; in the morning I lay my requests before you and wait expectantly."
Romans 8:18 (NIV)
"I consider that our present sufferings are not worth comparing with the glory that will be revealed in us."
You can't have a testimony without a test. In business, it's all about upfront sacrifice for long-term gain. What God requires of us is present suffering for future glory in heaven. God wants us to have confidence that he knows the desires of our hearts and he will resolve our issues in his perfect time.
Jeremiah 29:11 (NIV)
"For I know the plans I have for you, plans to prosper you and not to harm you, plans to give you hope and a future."
Every step in life and in business had already been ordered for us before we were even born. God does not reveal his plans to us all at once, because we could not handle it. He gives us a just glimpse through visions and dreams, but he plans for us to all live a prosperous life.
Psalm 23: 5-6 (KJV)
"... Thou preparest a table before me in the presence of mine enemies: thou anointest my head with oil; my cup runneth over. Surely goodness and mercy shall follow me all the days of my life: and I will dwell in the house of the LORD forever."
When you are in business you will develop haters, but it is important that you realize that you don't have to handle your detractors yourself. God will bless you right in front of them. All you can do with your haters is pray for them.
1 Thessalonians 2:12 (NIV)
"... Encouraging, comforting and urging you to live lives worthy of God, who calls you into his kingdom and glory."
No matter how successful we become in business, we must always seek to be a shining example of God's light and love.
Proverbs 18:13 (NIV)
"To answer before listening — that is folly and shame."
We have two ears and one mouth for a reason. It's always best to listen first in any situation and speak last after you've had time to consider fully what has been said.
Philippians 3:13-14 (NIV)
"Brothers and sisters, I do not consider myself yet to have taken hold of it. But one thing I do: Forgetting what is behind and straining toward what is ahead, I press on toward the goal to win the prize for which God has called me heavenward in Christ Jesus."
It is very important that we as Christians remember always, that we love a God who is a God of first, second, third, fourth, and one hundred or more chances if we need his forgiveness. It is important that we forgive ourselves quickly, and not dwell in our past mistakes.
1 Timothy 6:12 (NIV)
"Fight the good fight of the faith. Take hold of the eternal life to which you were called when you made your good confession in the presence of many witnesses."
Faith is key in business and in a lifetime of happiness. For those of us who are believers, it is important that we witness to non-believers what God has done for us. He died for us on the cross, so that all sin is forgiven, and that we would have everlasting life.
The Bible has been a massive influence on literature and history, especially in the Western World, where the Gutenberg Bible was the first book printed using movable type and font.
‪Trump signed Bibles. Heresy? Many religious leaders say no https://apnews.com/babacf0241774561badc76b3201c2f2c‬
Trump autographs Bibles for Alabama tornado survivors during a visit of disaster area https://www.montgomeryadvertiser.com/story/news/2019/03/08/donald-trump…
John Oliver Mocks 'Dangerously Idiotic' Trump for Signing Bibles https://www.thedailybeast.com/john-oliver-mocks-dangerously-idiotic-tru…
Links
VerseOfTheDay - Verse of the Day: 1 Peter 3:15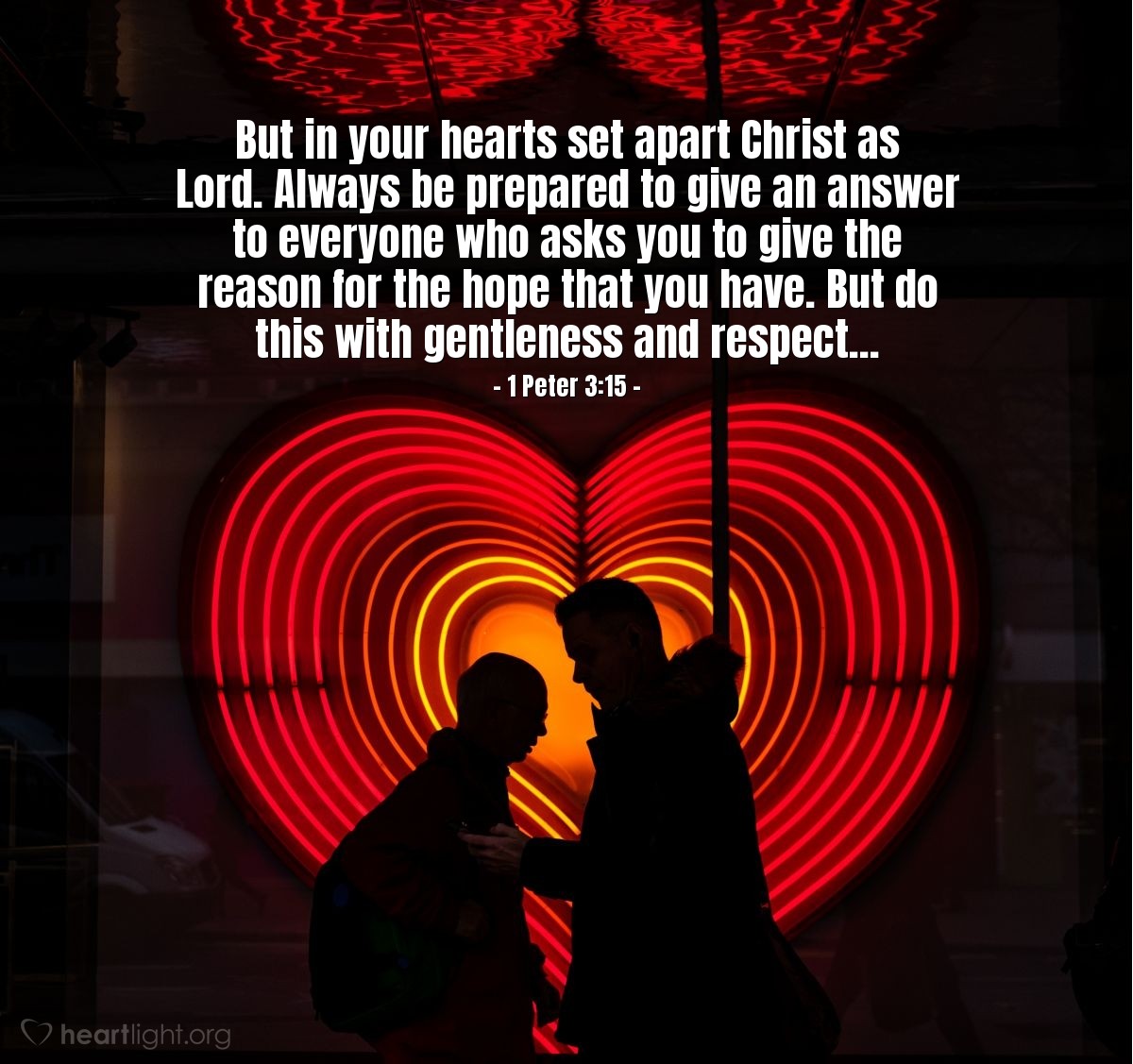 A daily devotional featuring a Bible verse, thought, and prayer.