After reading the book, I recommend The HBO documentary "Deadline Artists" which explores an era when newspapers were still king, with two stars and historians. Pete Hamill and Jimmy Breslin brought New York City to life through shoe-leather reporting and tabloid poetry.
#PeteHamill and #JimmyBreslin - Names that will live not only in print but in the history book of news reporters, not journalists.
P Hamill on J Breslin and the heralded world of beat reporters https://www.cbsnews.com/news/pete-hamill-on-jimmy-breslin-and-the-heral… #DONews breaking.doseofnews.com #NewsHooks https://newshooks.com #CityImages https://cimages.me #Journalism #FreePress
https://search.yahoo.com/yhs/search;_ylt=AwrC3CJ275ldpSIAdwQPxQt.;_ylc=…
https://www.google.com/search?sxsrf=ACYBGNRWmJt78mMD8RRGSRKsbFWrnKTzgg%…
We are NOT the enemy of the people. On the contrary, we are warning the masses about corrupt people, dangerous places and harmful things, including political stunts.
I began my journalism career at Washington Post owned WPLG. YES - as in W Philip Leslie Graham - B: July 18, 1915 – D: August 3, 1963 PLGraham was the publisher and co-owner of The Washington Post and its company Post-Newsweek,
The Washington Post Company. During Graham's years with the Post Company, Graham helped The Washington Post grow from a struggling local paper to a national publication and the Post Company expand to own other newspapers as well as radio and television stations. He was married to Katharine Graham, a daughter of Eugene Meyer, the previous owner of The Washington Post. Phil Graham, who had bipolar disorder, died by suicide in 1963, then Katharine took over as de facto publisher, making her the first woman in charge of a major American newspaper.
Graham is credited and made the phrase popular. However, first rough draft of history" had been used repeatedly in the Post in the 1940s and the earliest known use was by Alan Barth: "News is only the first rough draft of history," and earlier expressions of similar sentiments dating to the first decade of the 20th century.
Links
Slate Magazine - On the trail of the question, Who first said (or wrote) that journalism is the "first rough draft of history"?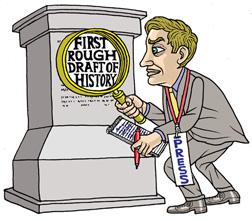 Many journalists give former Washington Post President and Publisher Philip L. Graham credit for being the first to describe journalism as `the first...
Pete Hamill on Jimmy Breslin and the heralded world of beat reporters - CBS News - Pete Hamill on Jimmy Breslin and the heralded world of beat reporters - CBS News